WinSPC Hosted Solution

Harness the Power of the Cloud
DataNet now offers hosted solutions that allow customers to gain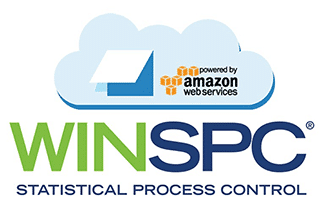 the benefits of a centralized available-anywhere WinSPC experience without procuring and managing their own hardware and software infrastructure. DataNet has partnered with Amazon Web Services to reliably deliver WinSPC sessions built on the same services and in the same world-class datacenters that power companies like Amazon, Twitter, Netflix, Pinterest, and SAP. This highly flexible infrastructure allows you to focus on what you do best without worrying about the scaling, complexity and maintenance of hardware or software.

System performance and maintenance managed to world class standards
With DataNet's hosted solutions, hardware maintenance, operating system patches, database and WinSPC upgrades are all handled for you according to your management plan. Backups and database replicas are maintained, monitored, logged and guaranteed according to your personal retention and recovery plan. Your WinSPC systems remain always accessible to you from anywhere in the world you specify. System backup, snapshot and downtime windows become simply a matter of scheduling their completion. DataNet's hosted solutions permit hardware, software and licensing to be completely managed to meet your changing needs.
Unifying manufacturing operations according to your needs, not by geography
DataNet's hosted solutions provide a unique opportunity to consolidate your facilities, manufacturing network or supply chain onto a single database and view. WinSPC configuration, data and reports can be standardized among your users and groups, regardless of their geographic boundaries. Create a specialized installation that suits the needs of a critical customer or just as easily create a large single instance that serves many operations or locations within a common view. The power of hosted solutions is the flexibility to eliminate many arbitrary boundaries that limit traditional on-premises solutions.
Supplemental assistance with DataNet Services
With your systems and data located in a centralized and standardized private cloud, you gain the opportunity to permit access to DataNet Services experts who can supplement your Quality team. Hire DataNet to implement custom reports, automate and schedule maintenance, execute configuration changes or simply extend your team to improve effectiveness. Since your WinSPC system is equally available to anyone you empower through gated access, DataNet personnel can quickly help you to achieve goals and resolve problems that may otherwise remain unstaffed among your busy team members.
Not just another cookie cutter Software as a Service
DataNet knows that each company has unique expectations for performance and service. DataNet's hosted solutions can accommodate a wide range of differing requirements with solutions tailored to suit the individual customer. Your private instance can integrate with your existing corporate system and scale to deliver just the right cost-to-performance balance for each facility or workflow you specify. Meanwhile your data is always available via a standard database tier that can grow as you do, scaling invisibly from 20GB to 1TB per instance for Microsoft and up to 3TB per instance for Oracle.
Discovering just the right solution components, together
Whether your goal is to reliably replicate what you have done before, consolidate supplier, vendor or distant data collection, or migrate your existing systems to an automated and managed environment, DataNet's team of engineers can help you to understand your options and define the most cost efficient and effective path for you to you achieve your goals.