Customer-Specific Solutions

Diverse installations drive power and configurability
WinSPC has been applied to thousands of practical manufacturing problems in a diverse range of industries. Customer-driven refinements have resulted in a product that is easily configurable and typically requires no customization.

Expand to read more
Ready to run right out of the box, but also customizable for whatever you have in mind
Unlike the majority of customizable enterprise solutions that must be professionally modified before they can be used, WinSPC is designed to install, operate and be administered without the need for customization or professional assistance. In every practical sense WinSPC is developed and validated as if it is a "shrink wrapped" product – but it's one that also happens to be customizable.
Everyone envisions how an ideal solution would operate — now you can build it
Ideally, new system owners desire the functionality, cost, and stability of a mature best-of-breed offering that operates as if they built it themselves. WinSPC delivers on this vision through its time-tested functionality, while also remaining programmable and extendable to provide a custom experience.

Below are popular classes of customer-specific solutions. Contact a WinSPC Solution Specialist to discuss your needs.
Creating production interfaces for floor operators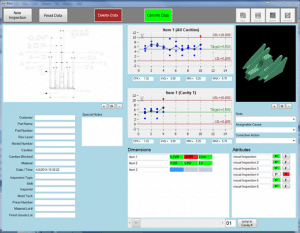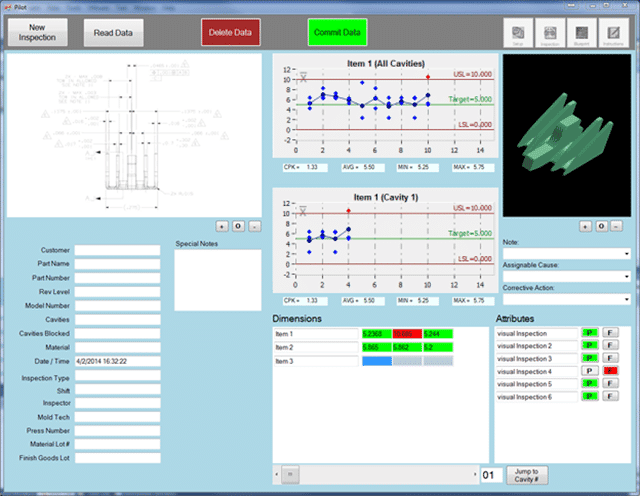 Create familiar interfaces that reflect operator expectations and workflows. Because even the most intuitive new interface is still a new interface.
WinSPC Application Engineers are often asked to leverage the WinSPC programming framework to provide station-specific operator interfaces that mimic existing systems or workflows. This enhances operator compliance and data collection accuracy while reducing training costs. These solutions can integrate outside systems, create document driven workflows, or leverage site-specific assets to achieve a familiar experience. Meanwhile, all other users of the WinSPC system can leverage this data, analyses, tests, events, dashboards and reports using the full power of the new WinSPC installation. You can freeze time for one set of users while empowering others to discover new efficiencies and opportunities.
Accessing existing manufacturing information and data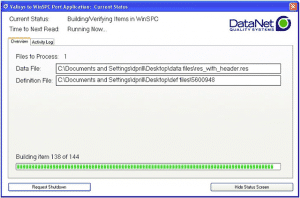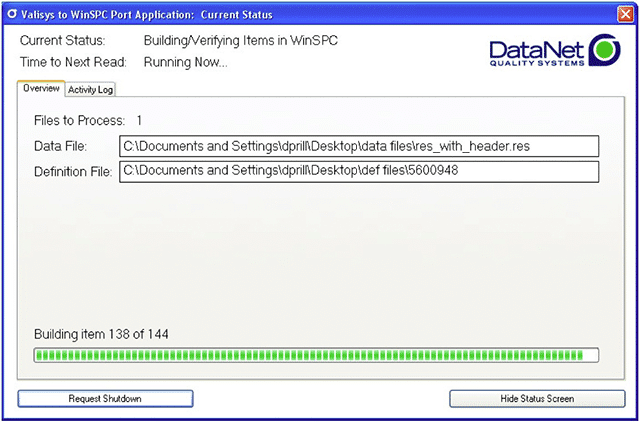 Integrate existing sources of production information to magnify its usefulness, reduce delays and eliminate critical errors.
Because you were manufacturing long before the latest Quality initiative arrived, we need to leverage the systems and investments you have in place.
WinSPC is designed with simple visual tools that enable any administrator to map outside sources of data into virtual data collection devices and plans. Other standard capabilities, such as user management, can be integrated with Microsoft Active Directory in just a few clicks. But even if you need a specialized solution that integrates your MES, ERP or other production system, often the best solution is a focused add-on module to make that additional capability appear seamless. WinSPC empowers this path as well with an open database and automation interfaces that permit your team to program a solution that meets the specific need. Alternatively, you can hire a WinSPC Application Engineer to develop a custom module that integrates your information flows with those of your WinSPC users without the cost, complexity or risk of a full custom solution. In addition, the resulting integration module is covered under a regular software maintenance agreement.
Crafting specialized status views for stakeholders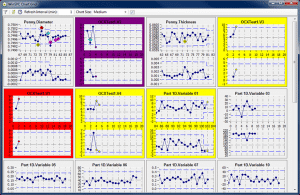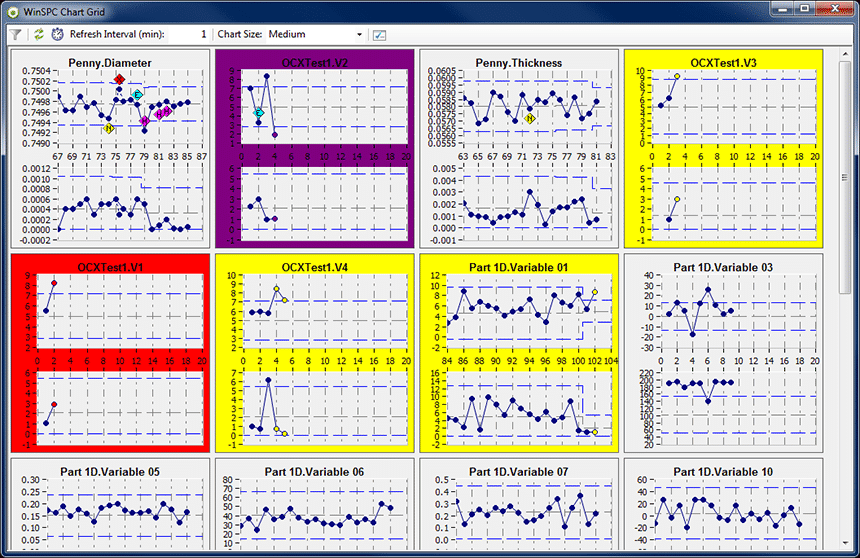 Build custom views instead of custom software to get the outputs you need to succeed.
Because every manufacturing stakeholder has unique interests and needs, give each person exactly the information he or she requires for decision making.
WinSPC is loaded with report and dashboard templates that reflect common scenarios encountered by existing customers. Many times you can find an included template that, with a couple of clicks, delivers the answers your stakeholders desire. Because these reports and dashboards are built within WinSPC using its native visual tools, you are able to create, modify, and extend these templates to monitor and display whatever you need.
In addition, WinSPC Application Engineers can give you a head-start by building custom views for your management or stakeholders that contain just what they need to see. Whether these replicate current big-board status dashboards for an entire plant floor or reflect simple standardized shift summaries for supervisors, you can get exactly what your stakeholders expect. These new views are built with the same report and dashboard tools that are inherent in every WinSPC station, so you can change them as your needs and experience grow.
Reporting on production and compliance exactly as required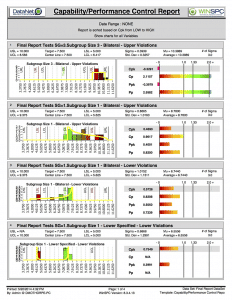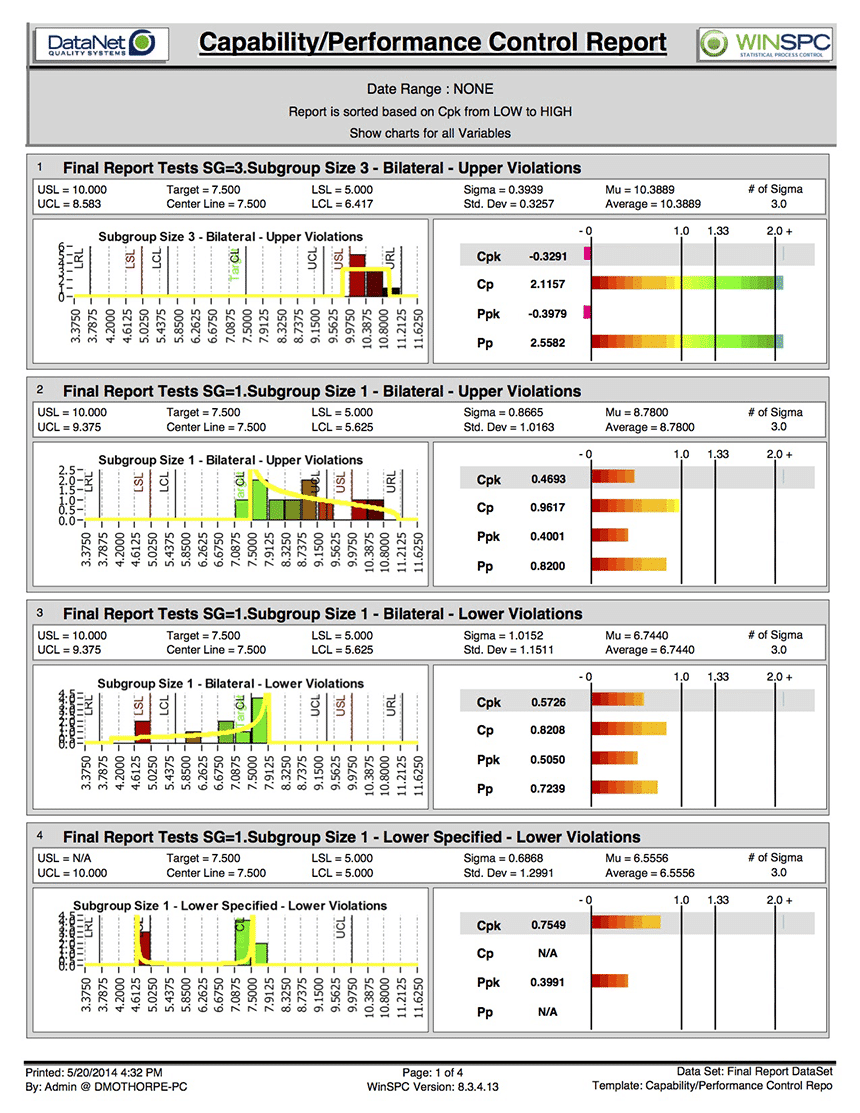 Schedule automated compliance or customer-specific reports. Eliminate the ongoing effort and opportunity for errors in ad-hoc reports.
What good is a compliance system that doesn't automate the compliance reporting and create the customer documentation for you?
Often a set of automated compliance reports can pay for your entire system investment. Every WinSPC installation has the ability to eliminate large amounts of repetitive labor and reporting compliance risks. Included are a number of options for outputting information about production events, process capabilities, and changes for external stakeholders or systems. This is a core capability of WinSPC. Sometimes, though, what you want is a custom report that meets a very specific need and, on such occasions, WinSPC application engineers can build that report for you.
Click here to download a printable DataNet services data sheet.
Click here to download a printable DataNet Extended Service Coverage data sheet.