If you are trusting your process data to Excel, the time might be right for considering making the leap to an automated, real-time SPC solution.


It speaks directly to the ubiquity of Microsoft Excel that an article claiming that 88% of Excel spreadsheets contained errors became an instantly trending talking point across both social and traditional media. The BBC offered a great commentary that both praises and satirizes the product in the same piece. As the article points out, much of the recent spotlight shone on Excel is based on a 2010 report by two distinguished Harvard professors that questions whether or not high government debt hurts economic growth. The influential paper, often cited by austerity champions, culled data from a spreadsheet that contained a critical, although very common, error. They forgot to select all the necessary cells required to correctly calculate the average for a set of specified values: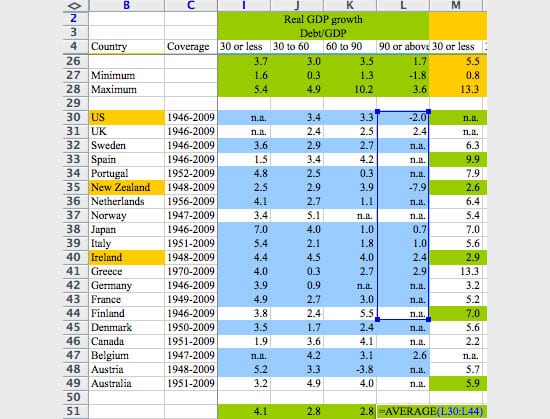 With all apologies to Google Docs and Apple Numbers users, although you are just as likely to commit the same error, Excel is here to stay. It will remain equal parts feared, reviled, revered and necessary. It will undoubtedly leave another professor, government official and CEO red-faced in the media in the near future.
At DataNet we frequently hear from customers and prospects that the decision to make the leap to WinSPC and its real-time data collection and analysis, was due to the limitations of an existing Excel solution. Data storage concerns are a common factor. What customer doesn't fear the multi-megabyte file spreadsheet in their inbox just to display a capability study? Of equal concern is the proclivity for errors. Even as a spreadsheet master, perhaps even your company's go-to resource, to err is human, to create subtle errors in complex worksheet relationships is to use Excel. To quote a frequently shared MarketWatch article regarding the recent gaffe:
"Simple arithmetic errors may be rampant, but spreadsheet use is likely to go on as before. Despite this long-standing evidence, most corporations have paid little attention to the prospect of serious spreadsheet errors."
If you are trusting your process data to Excel, the time might be right for considering making the leap to an automated, real-time SPC solution.  In addition to eliminating possible human error due to manual data collection mistakes or spreadsheet snafus, some of the immediate benefits include:
Real-time charts and alarms that empower operators to quickly respond to production issues
Reduced administration with all data stored in a central database, instead of scattered in various Excel files
Access to dozens of standardized (and customizable) quality reports to meet customer requirements
Your existing data collected in Excel is easily imported into a solution such as WinSPC. In fact, data can be migrated from a multitude of sources including Microsoft Excel files, text files, ODBC-compliant databases, and manufacturing systems that support OPC, OLE, and DDE.
Post migration, data collection can be facilitated and accessed in real-time from a variety of sources, including data from RS232 serial devices and USB devices, such as micrometers, calipers, scales, tensile testers, hardness testers, keyboards, and more. Data can also be captured from capable sources wirelessly, either over a network or via the Bluetooth SPP protocol. Complex manufacturing machines and measurement devices, such as PLCs or CMMs, can be accessed using OPC, ODBC, OLE, DDE, or text files. WinSPC also supports bi-directional communication with manufacturing equipment via OLE programming and WinSPC's built-in API.
Part 3 of our WinSPC interactive tour, Capturing Data from External Sources, is an excellent place to start your review of WinSPC's superior data collection options. After all, shouldn't we leave all of the spreadsheet errors to the accountants and the Government?
About DataNet Quality Systems
DataNet Quality Systems empowers manufacturers to improve products, processes, and profitability through real-time statistical software solutions. The company's vision is to deliver trusted and capable technology solutions that allow manufacturers to create the highest quality product for the lowest possible cost. DataNet's flagship product, WinSPC, provides statistical decision-making at the point of production and delivers real-time, actionable information to where it is needed most. With over 2500 customers worldwide and distributors across the globe, DataNet is dedicated to delivering a high level of customer service and support, shop-floor expertise, and training in the areas of Continuous Improvement, Six Sigma, and Lean Manufacturing services.