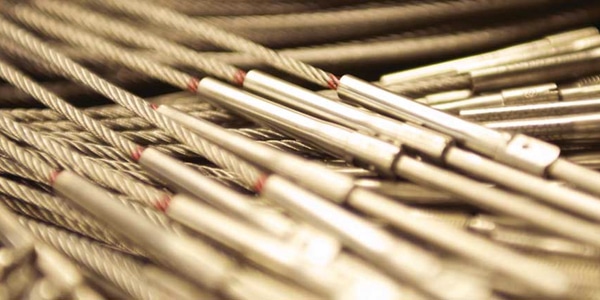 October 1, 2001
Loos & Co., Inc, a top producer of wire and cable, reported that it used WinSPC to reduce scrap and rework by 30%, attaining its ROI in 6 months.
Background
"This is by far the best tool we have used to look at our processes and make improvements. Over the past 4 years, WinSPC has been a key tool in helping us control our processes and meet QS9000 compliance requirements from our customers."
–Steve Fairfield
Quality Manager
Loos & Co., Inc.
Loos & Co., Inc., a privately held corporation founded in 1958, manufactures stainless steel, galvanized wire, wire rope, jacketed wire rope, and cable assemblies. Its products are used for a wide variety of applications in markets such as commercial, aerospace, and automotive. Loos & Co., Inc has gained significant benefits using WinSPC.

Challenge
Loos & Co., Inc.'s products must meet stringent safety and quality requirements. Accordingly, their manufacturing processes, which range from the initial drawing of rods into wire to final cable assemblies, must be kept in control.
In addition to keeping processes in control, Loos & Co., Inc. sought to achieve a higher degree of productivity and quality as well as a reduction in scrap and rework. Along with these requirements, they also need to maintain compliance documentation for both clients and internal records.
Loos & Co., Inc. realized SPC tools were required to monitor and analyze the psi, speed, temperature, pound break and other critical characteristics to achieve its goals.
Implementation
Loos & Co., Inc. chose WinSPC for the following reasons:
WinSPC is easy-to-use; as part of the evaluation process operators selected WinSPC above other products evaluated
WinSPC is easy to administer
WinSPC provides the documentation required to help meet compliance requirements
WinSPC's in-line process monitoring enables operators to make quick, real-time adjustments, and maintain control
Results
Loos & Co., Inc. has achieved greater control over its processes, significantly reducing the amount of variation, scrap, and rework in their processes. Loos & Co., Inc. has experienced these benefits across three divisions of the company.
Benefits
Loos & Co., Inc. cited the following benefits achieved with WinSPC:
Reduced scrap and rework by 30 percent
Increased yield
Attained ROI in six months
Increased productivity and reduced inventory
Reduced process variation
About DataNet Quality Systems
DataNet Quality Systems empowers manufacturers to improve products, processes, and profitability through real-time statistical software solutions. The company's vision is to deliver trusted and capable technology solutions that allow manufacturers to create the highest quality product for the lowest possible cost. DataNet's flagship product, WinSPC, provides statistical decision-making at the point of production and delivers real-time, actionable information to where it is needed most. With over 2500 customers worldwide and distributors across the globe, DataNet is dedicated to delivering a high level of customer service and support, shop-floor expertise, and training in the areas of Continuous Improvement, Six Sigma, and Lean Manufacturing services.