April 8, 2013
With WinSPC real-time SPC software you can examine past production to improve your processes in 3 straightforward steps.
This video is designed to educate potential and existing customers about the advanced features of WinSPC and to introduce you to new ways of working with your SPC data.
In this interactive video, you'll identify a problematic process. Then you'll uncover a major cause of its underperformance and quantify what you can save if you eliminate that cause. Finally, you'll fix the problem, thereby boosting the process' capability and gain a financial savings. For a deeper dive into the functionality depicted in the video please visit winspc.com.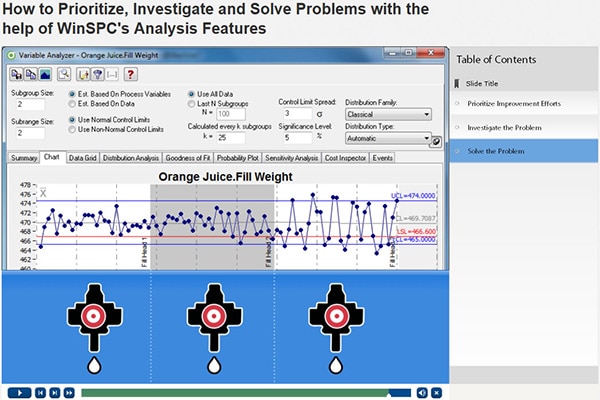 About DataNet Quality Systems
DataNet Quality Systems empowers manufacturers to improve products, processes, and profitability through real-time statistical software solutions. The company's vision is to deliver trusted and capable technology solutions that allow manufacturers to create the highest quality product for the lowest possible cost. DataNet's flagship product, WinSPC, provides statistical decision-making at the point of production and delivers real-time, actionable information to where it is needed most. With over 2500 customers worldwide and distributors across the globe, DataNet is dedicated to delivering a high level of customer service and support, shop-floor expertise, and training in the areas of Continuous Improvement, Six Sigma, and Lean Manufacturing services.